Gabe Swart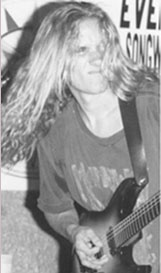 Lead Vocals, Lead Guitar, Hair
Prior to founding Severity, Gabe tried his hand at pretty-boy rock with Battle Ground-based Suspended Animation. All involved quickly realized that Gabe's speed metal influence and hard rocking were not going to fit the band's butt-rock mold, and they split ways.
In addition to seven years of guitar training and musical theory, Gabe has a strong musical background, including four years of piano and vocal training.
You'll see Gabe slamming away on his Ibanez JS1000 Signature Series with Dunlop Crybaby wah, Marshall JCM2000 Dual Super Lead 4x12 cabinet, Boss Metal Zone MZ-2 Pedals and Boss Hyper Fuzz Boost at the forefront of Severity's relentless attack.