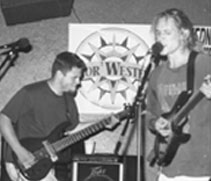 To stay informed about all upcoming shows, releases, and band news as it happens, join the Severity mailing list. We'll e-mail you our flyers, mp3's, site updates, and much more.
The Book of Severity has arrived! You can sign the book and tell us what you think of us or the site, or you can read what other fanatics have to say.
We'll add new shows as we book 'em!
Changes are afoot!
Severity is no more...
Severity has officially disbanded as of 2001. You can see Gabe in his new band, One of Each, and Jeff in Stark Raving Mad, both playing around the Portland Metro Area. Greg and Dan are working on new material for their as yet unnamed project.


MP3's have arrived!
Visit our Music page to see what tracks are available!
Severity has finished their demo! Included on the demo are Blood, As If It Were True, and Numb. MP3 and RealAudio files are now available on the site for those songs. Shortly, Severity will record the remainder of the tracks for the CD. We'll post them as soon as we have them!