Jeff "Crusher" Johnson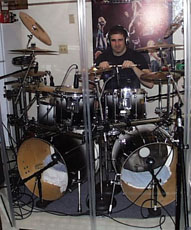 God of Percussion
Jeff has been pounding his custom Mapex drum kit, Dw pedals, and Sabian cymbals for over 25 years, playing with numerous bands throughout the 80s. Originally hailing from Kentucky, he left the Bluegrass state in 1984 to go on tour with a variety of bands throughout Europe, Canada, and the United States. He's jammed with Jeff Watson of Night Ranger fame, and has opened for bands from BTO to Jackyl.
In 1997, Jeff decided to settle in Vancouver, Washington, where he still resides, and where he first hooked up with Severity. His musical background includes a wide variety of musical styles, but heavy metal is where his heart lies. He would like to thank Tommy Aldridge and Terry Bozio for helping him to become the drum animal he has become.
His beastly presence behind the drum set is the core of Severity's might, as he tears off his shirt and takes command of the set with authority.